Hey, dudes and dudettes.  Sonic 4: Episode 1 is out on all systems today.  As many of you have experienced or heard, the physics and controls in Sonic 4: Episode 1 are pretty pathetic.  It's like Multimedia Fusion suddenly became playable on your favorite console.  You can stop dead in mid-air, walk up walls and get stuck on any curve.  Most of us staff seem to agree that the game's engine is solely holding back Episode 1's potential, so we're going to have a little fun with it.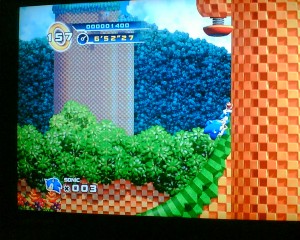 See this image?  It's courtesy of Cinossu of Retro Channel fame.  Look at how much work Sonic is doing upside down.  Terminal chillocity right there.
We had such a laugh at this picture that I decided to make a contest out of it.